H ello, I'm Nick Jaynes. Welcome to my personal website and portfolio. If you'd like to know more about me, please follow the About Me tab above. The same goes for if you'd like to review some highlights of my work from the last decade, which can be found on the Written Work and Video tabs.
If you'd like to check out my social media channels, you can do so by clicking the social media icons above. If that weren't enough, I have embedded my Instagram feed at the bottom of this page, which — fair warning — features perhaps too many pictures of my pup, Arlo. I'm a proud dog dad, what can I say?
Thank you for visiting my site.
Sincerely,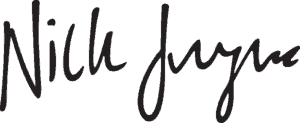 Nick Jaynes