M y name is Nick Jaynes and I am an independent writer, storyteller, content creator, and PR guy based in Portland, Oregon. Over the years, I've held positions at online tech-news juggernauts Digital Trends and Mashable. I also worked as the Assistant Manager of Chevrolet Communications at General Motors. In my last role, I was the Editor in Chief of Roadtrippers Magazine. Now, I own my own communications agency: Differential Communications.
Though my background is steeped in automotive communications and content, my passion lies in personal storytelling — regardless of the subject matter. I am happiest when I can tell stories and create inspirational content that is authentic and down-to-earth with people and personalities at the core.
Having run my own startup and managed million-dollar budgets, I always have an eye on business. I believe that acumen comes through in my work. I work to ensure my projects are both brand- and customer-friendly.
I am more than a storyteller, though. As you've likely concluded from the above header image, I am a bit of an outdoorsman. With my trusty coonhound, Arlo, in tow, I love to spend my weekends hiking, camping, and off-roading throughout the Pacific Northwest.
If you're interested. Here's a link to my resume as well, which gives a more detailed picture of my career so far.
With that, let me welcome to you to my personal website. My email is dotted throughout this page. But feel free to use the below contact form to get ahold of me, too.
Sincerely,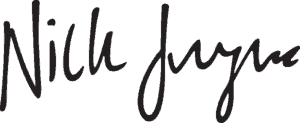 Nick Jaynes